Would you like to go on a safari and discover the wonders in your own backyard? Going on safari in your own backyard or a local park is a fun way for you to learn, connect with nature, spend time together and have some fun along the way. Use it as a scavenger hunt to find and learn about each item in your backyard.
This set of 23 hand-illustrated ABC Australian Nature Activity Cards (downloadable) which can be printed, have been created by a primary school teacher, artist and Eco Explorers bush playgroup facilitator Kate Rijs. Each card has a beautifully illustrated item for each letter of the alphabet that can be commonly found in most Australian backyards. The cards have been designed to help young children to learn their letters and sounds while also promoting curiosity, wonder and an appreciation of the natural world. To be consistent with the lettering used in many Australian schools the words are written in unjoined Victorian Cursive script.
Slightly older children and accompanying adults can also join in the fun with the prompts provided in the accompanying booklet. Four of the ways that we connect to nature is by observing it, wondering about it, engaging with it and learning about it. Included with your set of cards is a four-page accompanying booklet with learning prompts for each card aimed at encouraging observation, a sense of wonder, active engagement and also knowledge with some fun facts provided about each item.
Developed for both parents and educators as a quality educational and learning resource. Simply download and print!
There really are infinite ways to use these cards to learn together and connect with nature. Kate has shared a video on how you can use the cards here.
Enjoy the adventure.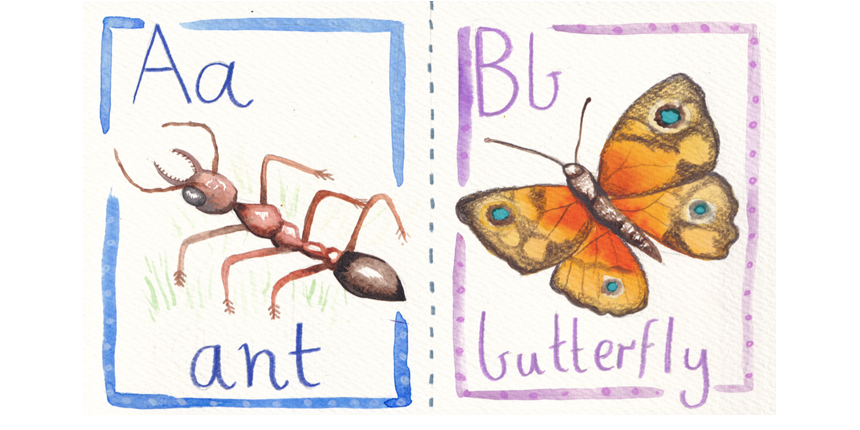 About the artist
Kate Rijs is an artist, qualified and experienced Primary School Teacher, Art Teacher and Outdoor Educator who feels that she is at her happiest when she is out in nature. Kate is passionate about creativity and loves nurturing creativity and imagination in both children and adults. She believes that nature is the best classroom that there is because it provides countless opportunities for developing these qualities.
Note: no part of this product may be reproduced and re-sold, copyright of art lies with the artist Kate Rijs.
PLEASE NOTE THIS ITEM IS SOLD AS A DIGITAL FILE ONLY. NO PHYSICAL ITEM WILL BE SENT.
ABC Australian Nature cards – kids nature play learning printables
**COPYRIGHT: All rights reserved. This file is for personal use only and is not to be resold or used for personal profit/benefit.