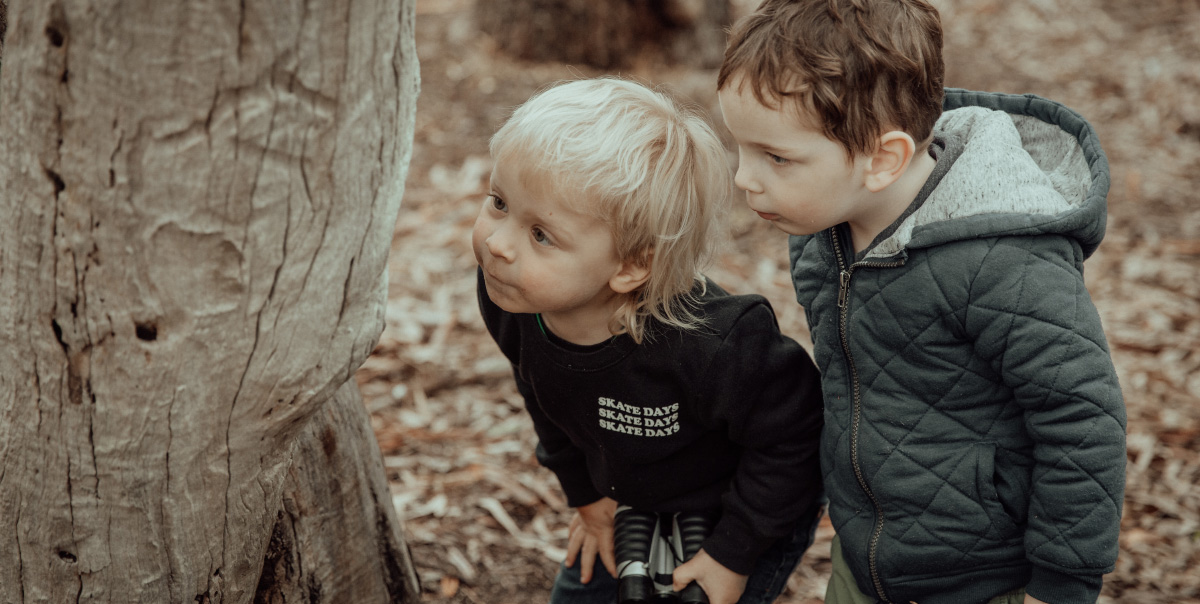 Eco Explorers offers a two hour Bush Kids program for children aged 3.5 – 6 years during school terms.  Our program has been designed by our team of early childhood educators, teachers, forest school leaders and environmental educators to deliver an age-appropriate, engaging, child led outdoor learning program.
Our Bush Kids program is a natural progression from our Bush Playgroup program where we support your child's development and a lifelong love of learning through hands on experiences that engages your child's curiosity, creativity and imagination.
We offer a safe and inclusive space for children of all abilities to connect and learn from each other and where families feel they belong and are respected.
YOUR CHILD'S LEARNING
During the facilitated Bush Kids sessions, which parents/carers are required to also attend, the children may learn the following:
Assess and manage risk
Bush survival and bushcraft skills
Building and constructing with ropes and loose parts
Confidently handle and create with tools
For areas permitted, cook over a campfire and learn to use a flint
Learn to identify local flora and fauna
Connect to our first people through stories, songs and activities
Establish early literacy and numeracy through story-telling, journalling and play-based bush games
Become custodians of the natural world
Bush Kids prepares children for the next stage of their lives as the facilitator identifies the individual needs of each child and provides open-ended learning experiences which foster children's love of learning. Group sharing and listening is an important part of our Bush Kids program as our facilitators encourage respectful relationships and nurture social development skills.
SESSION OVERVIEW
At Bush Kids, the families meet outdoors in a bush location and investigate a different topic each week as well as extend on a topic of interest from the week before. The group gathers on a mat and the facilitator shares a story, they sing a song and there are discussions amongst the children around the theme and the things they discover on their walk. There's plenty of opportunity for play and climbing through games and unstructured time at the start when they the families arrive.
Younger siblings are welcome to attend and are free if under 14 months. Register your interest for 2023 via our newsletter here and we'll keep you updated on our programs for next year.