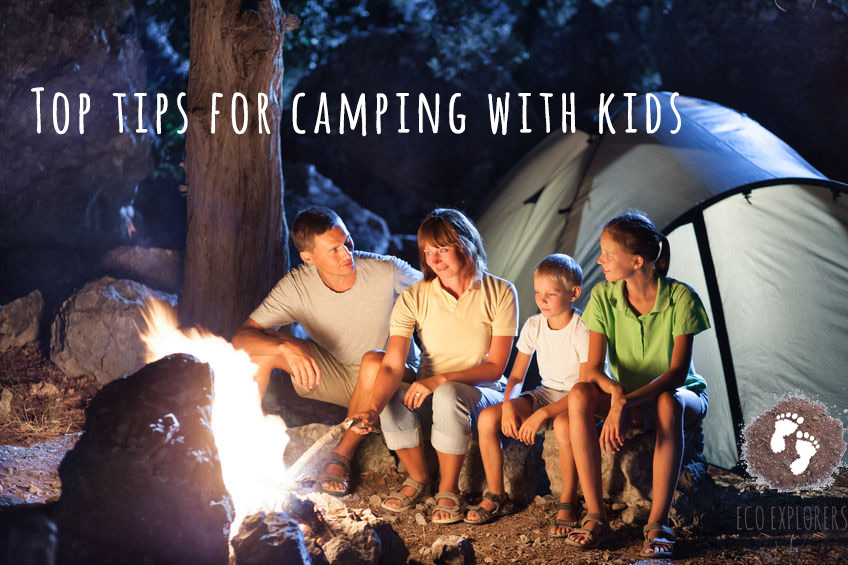 As the days get longer and the weather warms up, many families begin to drift outdoors in search of adventure. Some even pack a tent and make a night of it! If you're one of the thousands of families around the country going camping this summer, we've compiled our top six tips for making camping with kids an enjoyable experience for everyone.
1) Bring All-Weather Clothing…and More of it Than You Think You'll Need
Let's face it, you'll be outside in the elements most of the time so you have a choice: embrace the dirt, mud and water, or fight against it. If you're aiming to relax and connect with your family, rather than spend all day chasing the kids away from puddles, we recommend embracing the first option! With this in mind, it's worth throwing a puddle suit for each child in your pack, as well as a few extra pairs of gumboots.  If you're confident the weather will be warm the whole time you're away, do the opposite – pack less and let them get their bare skin dirty. Kids are 100% washable and they dry much quicker than clothes do! Regardless of the weather forecast, pack a couple of spare sun hats (bonus if they dry quickly).
2) Pack a Potty & a Big Tub
Even if your little ones are completely toilet trained, they may not be comfortable using the toilet facilities at campgrounds or squatting behind a bush. Having a potty on hand gives them another option, and may help you avoid the need to make the middle-of-the-night trek to the toilet block! Likewise, some little kids do not like showers and you don't want to discover that your kid is one of them when showers are your only option! Having a big tub handy allows you to bathe the kids right at your campsite. Pop a shade cloth under and around the tub to keep their feet clean when they jump out.
3) Pre-Cook Your Meals & Freeze Them
Consider pre-cooking your meals and freezing them. This will save you loads of time when you're camping and means you don't need to tote along as many cooking supplies (you'll just need to bring something to reheat the meals). Plus, you can use the frozen meals as ice blocks to keep the Esky cool! And make those portions larger than you normally would – it's amazing what a day in the fresh air outside can do for the appetite!
4) Let There Be Light
The night sky far from the city lights is soul-stunningly beautiful. The extraordinary beauty of the stars (and their sheer number!) is humbling, and makes us realise how small we really are… so imagine how tiny your kids will feel! Help them get their bearings and feel safe at night by packing a light source just for them. We've got these handy battery-free torches from Eco Toys – whatever you bring, make sure you have at least one per child and that they are conveniently placed where your kids can reach them, should they wake up in the night.
5) Use Old Doona Covers as Slip Sheets for Sleeping Mats
Old doona covers can be repurposed as slip sheets for sleeping mats: simply pop the sleeping mat inside the doona cover when you set up your campsite. When sand and dirt find their way into your little one's 'bed', remove the doona cover, take it outside and give it a good shake, and you're all set for another night!
6) Carefully Consider Which Activities You'll Bring
If you're staying at a campsite and have an early riser, consider bringing some quiet activities to amuse your child when they wake up, to avoid upsetting your camping neighbours. If your kids are night owls, pack reading lights and books. Minimise the number of 'indoor' toys you bring – there's not a lot of room in a tent and you'll spend most of your day outside anyway! That said, a space-saving pack of cards or a travel board game is a good idea, particularly for early mornings or inclement weather. Think very carefully about the role of technology on your camping trip. You might find devices such as iPads are better left at home. If you do decide to bring them, confirm you will have a power source onsite (or bring a solar charger) and pack extra charging cords.
Do you have any tips for camping with kids? If so, pop them in the comments below – we'd love to hear them!
Want to join in all the outdoor fun at one of our Eco Explorers bush playgroups? Click on the clink below to find a location near you!