Every Easter long weekend, we pack up the car and our camping gear to head out on our annual family road trip to the Grampians! Like many of us, our plans for Easter have dramatically changed due to the Coronavirus restrictions and my kids are hanging out to do something fun and adventurous. The thought of not being able to go camping has left us all feeling a bit glum so we decided, why not have an adventure at home!
Yes, I know it's not exactly the same as camping in the bush but on the positive side you don't have to pack the car and you still get the bonus of a flush toilet and hot shower, yippee! It's also a change to the routine and allows us all to feel like we are actually on a bit of a holiday.
One of the downsides of having to stay at home for a long period of time is the toll on our mental health, so getting some fresh air even if it's the backyard can be really beneficial not just for the children but for us too.
The screams of delight and excitement from my children as we start planning and packing tell me, this is a fantastic idea! It's 9am and we are discussing the all import tent location. All of us are involved so it takes a bit of negotiation. We have to navigate the sloped garden and try and fit the tent between the veggie garden and garage! It feels good though to have a plan and a sense of purpose. The kids are excited to be helping put up the tent and are keen to get the sleeping bags ready, yes, at 9am!!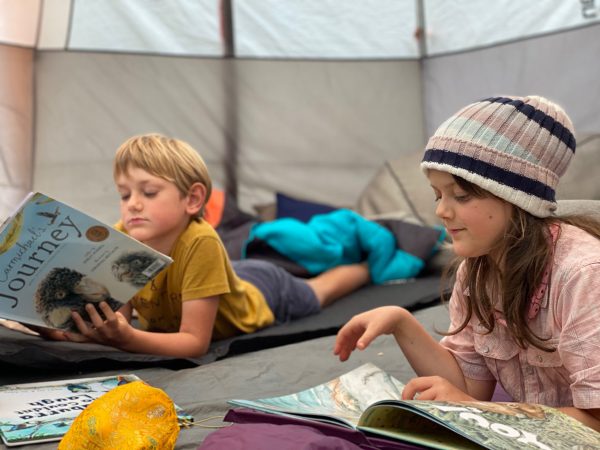 By 10.30 we are set up and ready, chairs are out, and bedding is in. Hooray! Those of you who have been camping with kids before know, that this is a huge achievement. We have decided to do as much as possible outside today just like we are actually camping. (OK we are preparing food inside but eating outside). Like I said its camping with benefits!
However, we have decided to turn off all mobile phones, and just take this time, no housework, no work, just being present and having fun.
It's a great idea to allow the children to pack a bag of items they want to bring for the camping experience; clothes, books, soft toys etc. It helps them feel involved and part of the adventure. Don't forget to pack a simple card game like UNO and some paper and colours just in case you get a rain shower. In fact, there is something really special about listening to the rain in the tent.
The day actually whizzed past as we played games, prepared food together, sung Aussie bush songs and told dreaming stories of Bunjil and the rainbow serpent. The children made up their own story with wombat, koala and crocodile soft toys. We even had the cat come for a visit.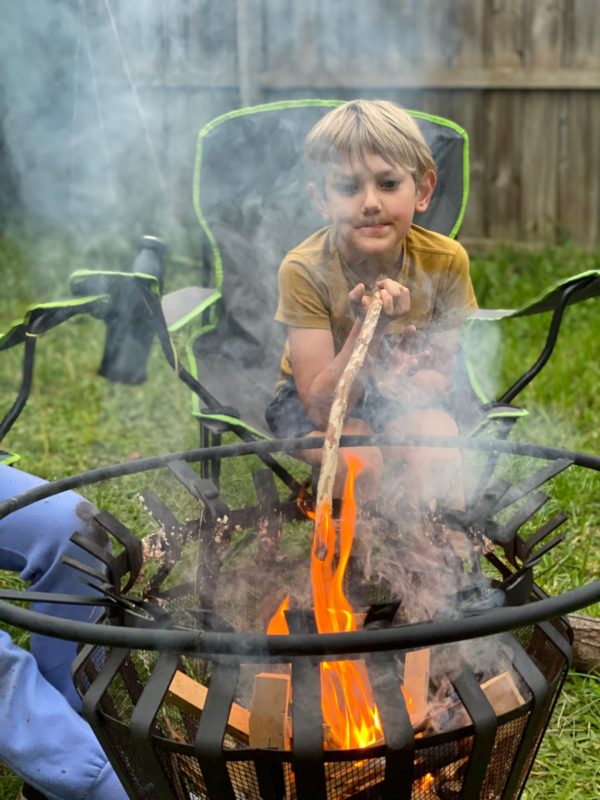 As the sun started to set, we decided to use the fire pit to really get that camping feeling, but if you don't have a fire pit, fear not you can always make a pretend one and use a torch for effect. Why not get the children to gather firewood or sticks around the garden?
I am pleased to say we stayed and played outside all day until the moon came out. After all the fresh air and games, I felt ready for bed at about the same time as the children. It's that relaxed tiredness you only get from camping when your whole body just surrenders to the rise and fall of the sun and moon.
Here is a list of some of the backyard camping activities you can try too:
Backyard games
Obstacle race – use anything in the garden for the children to run over, around, over and through etc. All join in if you want to you can even time each other
Skipping (easy fun and burns energy)
Garden bowls, tumble block, badminton, etc
Backyard bird spotting, perhaps you have a bird book you could use
Go on a backyard scavenger hunt! You can our nature scavenger hunt printables here.
Grass cutting – that's right! My children loved cutting and trimming the grass and the best part the was no mess!
I even managed cut some out some leaf hearts.
Books – bring out some of their favourite books and while they are reading or looking at them you may get chance to read your own book!
Go fishing – check out our fish rods even if you don't have a magnet the kids love just playing with the fish on the end of the rod, We ended up using fridge magnets! on the end of the string and paperclips on the fish! worked a treat.
When it's dark, turn off the house lights and go for a backyard night walk using torches to look up at trees and around your garden, see if you can spot any nocturnal wildlife.
Camp songs and stories
The best stories can be ones you make up, keep it simple. We all had an Aussie animal each and went around telling a story. Remember it doesn't have to make sense it's about keeping it fun and spending time together.
Aboriginal dreaming stories – sit around the fire and tell some stories
Sing, sing, sing! We love "Give me home Among the Gum Trees", "Kookaburra lives in an old gum tree" and "Barramundi" (sung in a round, many times), I know each family have their own favourites.
Keeping hunger at bay
We kept the food really simple, the last thing I wanted to be doing was cooking a full roast!
We cooked toasted sandwiches, as we would normally have jaffles cooked with the jaffle iron.
Jacket potatoes are great to put in the fire for dinner with a simple filling such as beans or tuna.
For dessert, why not cook bananas with your choice of a sweet treat! We love honey and peanut butter, or roasted apples and cinnamon – wrap them all up and put them on the fire (or in the oven)
We even did pancakes in the morning, anything to make it a bit special for all of you.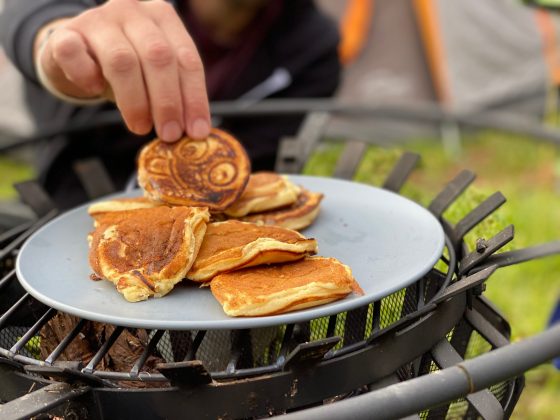 Don't have a tent or space in the garden? No worries!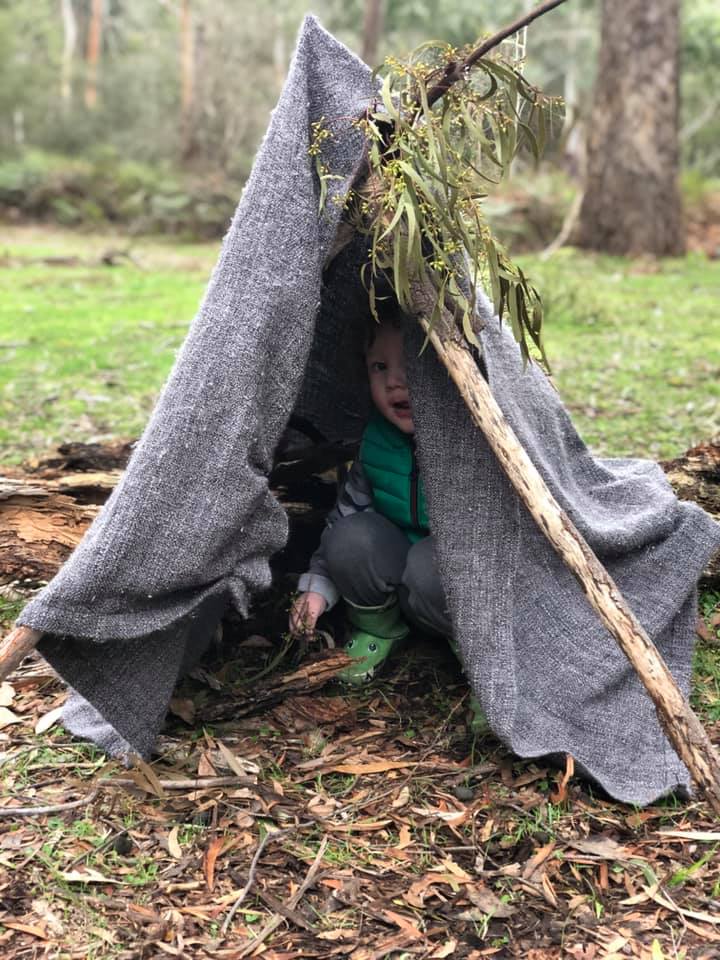 You can always pitch up small tents indoors, or build a day cubby outside – you still get the same excitement. If you have a trampoline then why not transform it to a tent? And if you don't have a tent you can build an extra-large cubby in the lounge or bedroom using sheets and blankets. Whether you go all out with sleeping in the tent overnight, with fairy lights and a camp stove, or have a giant cubby in the bedroom for the evening, you'll quickly find that back yard camping is brilliant and as long as you have fun, the benefits will be exactly the same as if you were out in the bush.
Happy backyard camping everyone!
Need more ideas for outdoor play? Check out our online nature play resources here.